No philosophers so thoroughly comprehend us as dogs and horses. –Herman Melville
Animals can help us to feel love and connection sometimes when we are having trouble feeling that with others. They can help us to learn to build loving and trusting attachments and bond in a safe environment. Dogs can also be very affectionate in ways that are appropriate and can sense when we feel sad to offer support. Animals can help to lessen stress and blood pressure, increase function in regular daily tasks, improve sleep quality, increase the ability to spend time around other people, improve a feeling of security in a place that may have otherwise felt uncomfortable, motivate a sense of purpose and wellbeing, and reduce panic, stress, and anxiety. Rachel Hofer, LMHC is trained in Canine Assisted Therapy and Kira, a brindle Labrador mix, is able to be a part of therapy. If you would like more information please do not hesitate to ask and Kira would be happy to meet you!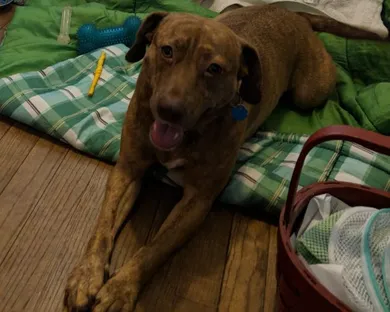 Kira was part of the Bay County Lifeline program and women who were inmates trained her in the Bay County jail to be a loving pet.
Rachel has training in Equine Therapy and is offering sessions in Gainesville. Rachel is certified with an APA approved course and partners with a local horse farm in Gainesville. She consults with experts in the field and has training from the International Association for Human Animal Interaction and American Psychological Association.
Rachel Hofer can also help with evaluation and providing ESA, Emotional Support Animal, prescriptions and letters when they are appropriate.